Joining us on Kite Beach, Jekyll Island
The flying spot of choice for all the local power kiters and kiteboarders is a section of the Jekyll Island beach in front of Blackbeard's Restaurant that we have come to adopt as "Kite Beach". Newcomers are always welcome!
| | |
| --- | --- |
| | |
| Kite Beach, Jekyll Island, Georgia. You can see the breakers over the sand bar. The bar goes out a 1/4 mile at low tide. | Cruising on Kite Beach on a summer afternoon. Thunder boomers like the one off my shoulder are common in the summer, fed by the sea-breeze, but they roll through quickly. |
How do we get to Jekyll Island?
It's easy. You will need a car, as there is no local public transportation. Just take I-95 to exit 29 or 38 in Brunswick, Georgia. Jekyll Island about 15 or 20 minutes from either one. (Exit numbers in Georgia are referenced by their mileage from the Florida border). Brunswick is a little over an hour south of Savannah and about an hour north of Jacksonville.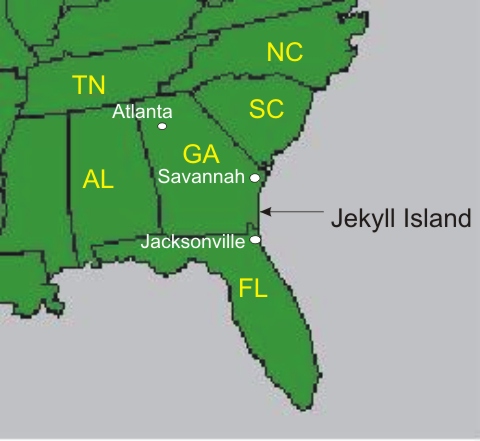 Here we are! Because we are in the gut of the "Georgia Bight", the western-most part of the east coast, we enjoy huge tide ranges with big beaches and great weather.
Flying
The Brunswick / Golden Isles Region is convenient to three airports:
Brunswick Golden Isles Airport. Served by 2-3 flights a day from Atlanta by Atlanic Southeast Airlines with Delta connections. Major car rentals available. Located near I-95 exit 38.
Jacksonville International Airport (JAX). Served by most major and regional airlines. All major car rentals available. Just 45 minutes to exit 29 and another 15 minutes to Jekyll Island.
Savannah Hilton Head International Airport. Served by most major and regional airlines. All major car rentals available. Just over an hour's drive to Jekyll Island.
Driving
From Florida and points south...
Take I-95 north to exit 29
At the exit 29 ramp, turn right to go "north" on US Rt. 17/ GA Rt. 25 (heading east here) for about 5 miles
Turn right on to the Jekyll Island Causeway. The causway is well marked and is right before the large Sidney Lanier suspension bridge.
Take the causeway another 6 miles and cross the bridge over the Intracoastal Waterway to the Island.
From Savannah and points north...
Take I-95 south to Exit 38.
At the end of the ramp turn left onto the Rt. 25 Spur/ Golden Isles Parkway, south.
After 4 1/4 miles, the Spur merges into US Rt. 17/ GA Rt. 25 south/ Glynn Ave.
Go about 6 miles, passing over the Sidney Lanier suspension bridge.
At the base of the other side of the bridge, turn left onto the Jekyll Island Causeway.
Take the causeway another 6 miles and cross the bridge over the Intracoastal Waterway to the Island.
The Cuaseway to Jekyll Island is easy to spot off of Route 17 / 25. From here it is 6 miles over the salt marshes to Jekyll Island.
Once on the island, you will have to pay $5.00 parking fee at the collection booth. For that fee you get ample beach parking, clean public restrooms, water, outdoor showers and easy beach access. Annual passes with a sticker for the drive-thru are $45.
To find Kite Beach, turn left at the end of the road after the parking collection booth onto Beachview Drive (right in front of the big Convention Center). Go one half mile north and you will see Blackbeard's Restaurant on the right, with a parking lot overlooking the beach. Pull in there and you will see the ramp with stairs going down to the beach. See map...
If you bring your own kite buggy, you can get small ones with a little bit of gear down the steps OK, but if you have a bigger, heavier buggy and a lot of gear, you will want to use the handicap access ramp to the south (the direction you came from). It is located just 0.15 miles (about 800 feet) to the south in the new Great Dunes Park, next to the public bathrooms. The park is due to open September 2010 and will feature showers, picnic shelters with grills and a large shaded deck overlooking the dunes and beach. The ramp to the beach is about 7 1/2 feet wide.
"Kite Beach" is the 1/4 mile stretch of beach from the access stairs at Blackbeard's up to the Jekyll Island Club Pavilion, the next building up the beach. Because it is between public access ramps, it is not crowded with a lot of sunbathers. There is a sand bar here that makes it an ideal spot for kiteboarders and kitesurfers, too.
NOTE: Due to island redevelopment and new construction, the only gas station on the island is closed until further notice, so be sure to gas-up on the mainland. The shopping center near the island entrance is being torn down as part of the redevelopment and will be temporarily relocated one mile north. Shops include a convenience store, small market, liquor store, beachwear, and food like sandwiches and pizza. At various times over the next two years or so there will be some disruption and construction to drive through but the beach will be untouched. As they say on Jekyll now, "It's all good!"
Click here for more information on the Jekyll Island redevelopment plan.
What do you charge for lessons or demos?
We do not charge anything for land-based kiting demos. Our policy is to promote the sport of power kiting to the general public and to do so in both a safe and accessible manner. We are frequently at the beach to test and evaluate new equipment (that's the excuse anyway), or to just fly for fun, and we are happy to coordinate our session times so that anybody interested can join us. There is no obligation, implied or otherwise to buy anything from us. Again, we are going to be out there anyway, so you might as well join us!
During a session, conditions permitting, we will demonstrate how to set up and fly power kites and how a buggy works and answer questions. Under the right conditions, we can show you how to fly an appropriate trainer kite and let you practice some static flying (on your feet, not in the buggy) yourself. You have to agree that we have sole discretion over what equipment can be used in what conditions. If you are new to power kiting, do not expect to be able to use a buggy; it takes more than a day's training. If you are an experienced power kite flier, we can let you take a run in the buggy in the right conditions.
If you are interested in kiting on the water (kiteboarding), professional instruction is available locally. Contact us to put you in touch with a qualified instructor. We should emphasize that the kites used for kiteboarding are very powerful and dangerous in the hands of a novice without the proper professional instruction.
Can I rent a kite and buggy?
No. A kite buggy is not like a scooter or a cart where we can point to the ignition switch and the brake and send you off. You first have to know how to fly a kite with confidence and skill, demonstrating control and safe procedures, and this takes more than one day's session. It's really not difficult, but like many good things, it just takes some practice. If you are an experienced buggy pilot, we can let you take a run with our gear in the right conditions. You'll have to try the new Ivanpah buggy!
Can I buy gear?
Yes. We carry a variety of power kites from 2-line sport trainers under $100 to powerful 4-line kites suitable for a novice in the $200 to $400 range. Sometimes we have stock at the beach, but it is more common for local customers to buy over the phone or from our web site and then meet us at the beach for an instructive session. You can try-before-you-buy, too.
For those who live farther away, we ship all over North America and have extensive training resources on-line on our "Tutorials and How-to" page. We are always available by phone for advice or to answer questions.
What are the crowds like at Jekyll and how much space is there for kiting?
Compared to the other local beaches such as on St. Simons Island to the north, Jekyll beaches are vast and not very crowded. Even on weekends and holidays during the Summer there is room at low tide for any kind of kiting and a little buggy activity. Kite Beach runs about a 1/4 mile and while there are some occasional pedestrians and bicycles passing through, it is generally safe to buggy if you take care and fly a little under-powered. Traction kiting at high tide is not a good idea as there is too little room to stay a way from the ecologically fragile sand dunes, never mind other people.
Kiteboarders can launch their gear on Kite Beach almost any time but the highest tide, but they prefer tide half-way out or lower. At low tide the shallow water offered by the sand bar is useful for training.
When low tide is after 5 pm in the summer and we still have a sea breeze off the water, the beaches are especially clear. There are pedestrians still but they tend to be walking the surf line. Often, fully lit speed runs are possible from north of the Pavilion by the breakwater down to South Beach, about 4 miles down and back! During the Fall and Winter, the crowds are even less but the winds are not as consistent.
How do I make an appointment?
Just give us a call at 912-265-1149, toll free 800-592-1195, or e-mail Angus. We will always look for a time of day when there is low tide, and that is constantly changing by about 45-50 minutes a day. In late Spring through the Summer we like to time it for the afternoon where there is a better chance of an on-shore sea breeze if we want to use the buggy. In the Fall and Winter, we just go for low tide and take whatever winds we get! For just static flying any kite, all we need is a little beach room far enough from high tide and any wind over about 6-8 mph.
Where Can I stay in the area?
There are several options for lodging and there are numerous options for dining.
On Jekyll Island: Look here for a current directory of island hotels. Two new hotels are scheduled to open in the summer of '09. There is also camping available. The campground is complete with tent sites, RV hook-ups, showers, laundry, general store and free WiFi. Camping is not permited elsewhere on the island, nor is overnight parking in public lots. NOTE: Book early for campground space; it often books full-up!
Brunswick area, mainland: We have many of the brand name budget and travel motels clustered around I-95, most with free breakfast and WiFi...
St. Simons Island (Close to St. Simons beaches, 16 miles to Jekyll Island): Holiday Inn Express and many more hotels and spas and all kinds of dining.
We look forward to seeing you on the beach!
Last updated 9/6/2010
Angus Campbell Coastal Wind sports, Inc. 912-265-1149